Wellness center for hotel guests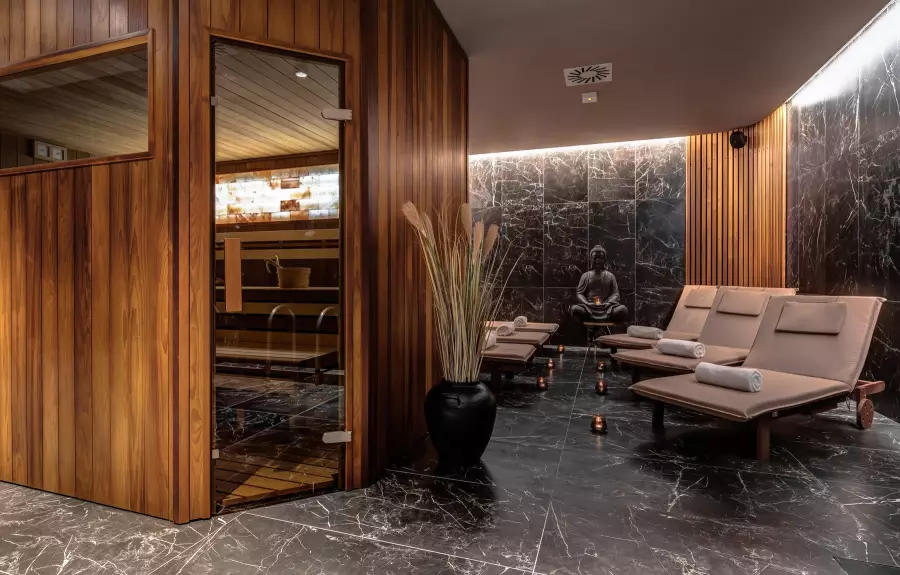 You are here:
Visit our wellness & massages & beauty centrum, pleasantly detach yourself from everyday worries and sail away from us on a wave of relaxation...
Opening hours of the wellness center - advance reservation required
Monday – Sunday: 8:00 – 21:30 hod.
Available times for your resevration: 8:00, 10:00, 12:30, 15:00, 17:00, 19:30 (or other time depending on the current occupancy of the wellness center)
Prices
120 min - 350 Kč an adult
120 min - 250 Kč child from 6 years

FREE for guests whose stay already includes access to the wellness area.
In the price of entry for 2 hours, guests always have a bathrobe (in the room), slippers, sauna sheet and also small refreshments in the form of a drinking regime (water, dried fruit, nuts). Please book your wellness time in advance so that you can enjoy maximum privacy during your stay. The number of people, if it is not a complete group, is limited to 6 people.
Wellness center offers:
spacious Finnish sauna with salt panel/ herbal

sauna menthol or lavender

steam bath

cooling pool with ice water

quiet zone with relaxing music (loungers)

zone with the possibility of refreshments (chair)

showers

dressing room with lockers

make-up remover

cosmetics, hair dryer
What more could you ask for:
bottle of Prosecco from our wide range of our Prosekarny

selected loose teas by prior arrangement

a variation of canapés or fresh fruit to bite into

Private whirlpool
Whirlpool is not part of the public wellness, if you order it, it is exclusively prepared for you in complete privacy. Jacuzzi is intended for a maximum of 2 - 4 people, water temperature 36 - 38 °C.
In addition to the jacuzzi itself, there is a shower, a large comfortable relaxation bed measuring 180 x 200 cm with pillows and a table for refreshments.
No chemicals are used in the hot tub and a new bath is always prepared for each guest.
Price
90 min - 1.350 Kč.
Whirlpool opening hours - according to hotel availability, advance reservation required.
Possible times for your reservation : 08:00, 10:00, 12:00, 14:00, 16:00, 18:00, 20:00.
The procedure itself lasts 90 min., 30 min. we always count to prepare for the next guests.
Before visiting, please familiarize yourself with the operating regulations of our wellness center, which you can find here.